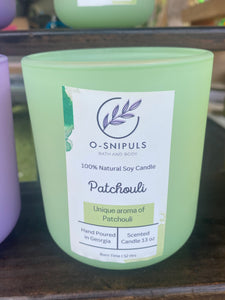 O-Snipuls Bath and Body
Patchouli Candle
Regular price
$38.00
$0.00
Unit price
per
Dark, thick, woodsy, earthy, everything Patchouli is supposed to be!! A strong scent to bring you all the back to the '70s. This scent is commonly called "Dirty Hippie" with each use you will want to go hug a tree. Scout honor.
13 oz candle in an 15 oz vessel.
Cotton Wick
Burn time 52 hours.
All candles come with a candle warmer.
Our candles are 100% handcrafted in small batches, which means that every candle is carefully poured, labeled and packaged by hand. We use natural soy wax. All of our candles are free of parabens, phthalate and animal testing.
- Scents and their strengths are personal and subjective, and I ask you to keep that in mind when ordering. If you would like a scent recommendation
 message me before ordering.
- My candles are hand poured and cured two weeks using 100% soy wax and phthalate-free, high quality fragrance oils.
Directions:
- During the first burn, make sure to allow the candle to melt to the edges of the candle this can take up to 4 hours. Failure to do so can result in tunneling, poor scent throw, and poor burn times.
- Make sure your wick is 1/4" inches long prior to each burn.
- After first burn only burn for 2-3 hours at a time.
- Do not leave candle unattended while burning.
- Keep away from drafts this will prevent soot and flammable items.
- Don't light when only 1/4" of wax remains instead use your candle warmer.
---